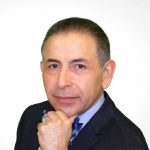 Daniel Castillo
Realtor
A little about Daniel...
Daniel grew up as the oldest of six children in a middle-class family. In a household of two working parents, he learned the value of responsibility at a young age. Now, as a father of two married children with four grandchildren, commitment, patience, and communication have been the key to a 39-year marriage.
Being a seasoned sales professional for over 30 years, his dedication to customer service & experience makes him an asset to his clients. His ability to be a fierce negotiator and attention to detail speaks volumes in his customer satisfaction surveys.
After Daniel and his wife purchased their first home they experienced an overwhelming excitement that ignited a passion for Real Estate. Since 2006 Daniel has helped many families fulfill their dream of home ownership. After working on the residential Home Builder side, he decided to broaden his ability to assist families find what works best for them.
WHETHER YOU WOULD LIKE TO BUILD A NEW HOME, BUY A NEW HOME, PURCHASE AN EXISTING HOME, OR LIST TO SELL YOUR CURRENT HOME, DANIEL HAS THE PROFESSIONAL TRAINING, ETHICS, AND EXPERIENCE TO MAKE YOUR TRANSACTION AS SMOOTH AS POSSIBLE!