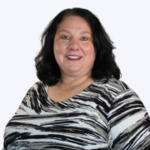 Teresa Smith
Administrative Manager/Realtor
A little bit about Teresa...
Teresa is a lifelong resident of Bedford County. She attended the Community School of Unionville K-12 and graduated in 1994. Teresa has been a professional in the real estate industry for 27 years working as a Real Estate Assistant to Janice Carlton whom she says "I have learned so much from and who encouraged me to obtain my real estate license 9 years ago". With these years of knowledge and experience, Teresa loves working with all clients. When asked what type of clients she likes working with most, she replied, "Helping first-time home buyers find the right fit and the joy of helping them through the process of purchasing their first home."
Teresa loves spending time with her family and says "Family comes first." She and her husband, Jody, have been married for 29 years and have three sons. Tyler, 29, is married to Tiffany. Austin, 27, is married to Brooke and they have a 7-month-old daughter Aubriella. Seth, 23, is married to Hailey and they have a 2 ½-year-old son Karsyn.
Teresa was raised on a farm and has always loved being around and caring for animals. From bottle feeding baby calves as a young girl to now having three dogs and two cats that she calls her "fur babies". She sponsors the New Destiny Dog Rescue in Shelbyville and encourages all of her friends and family to volunteer or donate to this great organization.
Teresa looks forward to building lasting relationships with all of her clients. She says "her clients become good friends and like family to her." Contact Teresa today for all your real estate needs!